Avril Lavigne poses in Japannesse InRock Magazine, but in her latest news, she rocks out in Shanghai China.
Canadian pop punk queen Avril Lavigne on Wednesday kicked-off her first Chinese mainland concert at Shanghai's Qi Zhong Tennis Centre with her new hit single "Girl Friend", from her latest album "The Best Damn Thing".

Previous rumours purported that Avirl Lavigne may sing a mandarin version of "Girl Friend" for Chinese audience. But she denied the rumour at a press before the concert, saying that mandarin is too hard to sing during a live concert. However, as one of her favourite songs, Lavigne said that "Girl Friend" is a perfect opening song for her concert. Needless to say the English version did indeed help her put the audience into the right mood from the get-go.

Besides numbers from "The Best Damn Thing", such as "Run Away" and "When You're Gone", the punk singer also sang several older yet hugely popular pieces, including "My Happy Ending".

The 22-year-old singer arrived in Shanghai on Monday. Her musician hubby Deryck Whibley, best known as the lead vocalist of Canadian punk band Sum 41, did not accompany her due to his touring schedule.

She is set to have her following concert in Hong Kong on August 18.

Nearly 6,000 fans attended Lavigne's debut concert in China, most of whom were young people and they compose the majority of Lavigne's China fan base. In order to meet the demands of her young fans, 80 percent of tickets were priced at less than 400 yuan, or 53 US dollars.

Given the performances location away from the city centre, organisers provided free shuttle buses for attendees.

[
Source
Avril Lavigne - InRock Magazine (September 2007)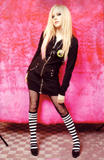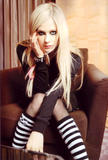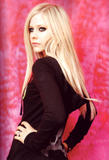 Pictures source: Best Celeb Photos